1mm Thick 700mm Wide x 20m 14Sqm Armachek R Grey Roll
1mm Thick 700mm Wide x 20m 14Sqm Armachek R Grey
Substantially minimizes the risk of under insulation corrosion
Provides continuous long term thermal efficiency
No risk of galvanic corrosion Increases the life expectancy of the insulation system by up to 40%*
Reduces monitoring maintenance by up to 60%*
Easy to apply with using specialised machinery
Withstands salt water
Exceptional impact resistance
Highly resistant to UV, oil and chemicals
Non-metal cladding system - reduces health and safety risks
Complies with international standards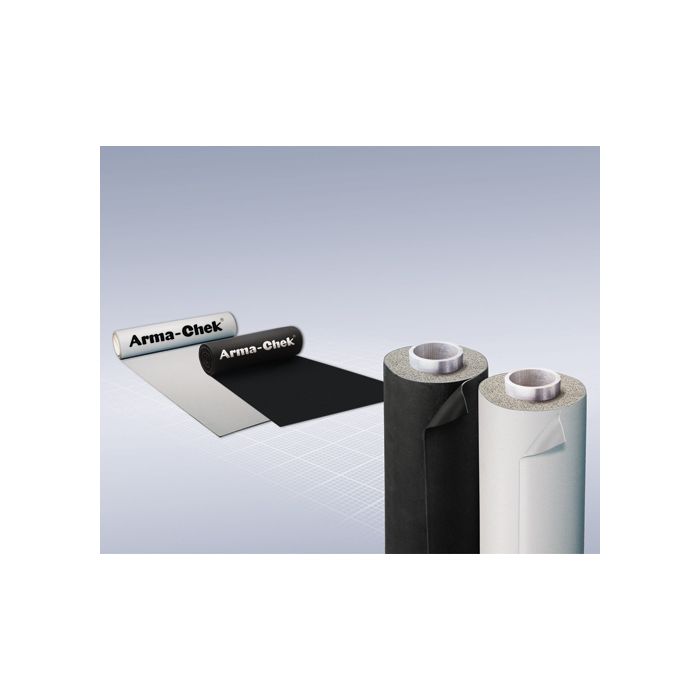 1mm Thick 700mm Wide x 20m 14Sqm Armachek R Grey.
Developed for offshore and heavy industrial environments, Arma-Chek® R is a high density rubber based covering Armaflex that offers an exceptional resistance against salt water, mechanical impact and UV attack. Arma-Chek® R is fully weather proof with an exceptionally high water vapour resistance. Its non-metallic nature eliminates the risk of galvanic corrosion.
Material Flexible polymeric barrier.
Max. Surface Temperature +105˚C (if based on Class O Armaflex, NH/ Armaflex) +150˚ C (if based on HT/Armaflex)
More Information
Product Name
1mm Thick 700mm Wide x 20m 14Sqm Armachek R Grey Roll
SKU
ACH-R20/1-07-GY
mpn
ACH-R20/1-07-GY
Description

1mm Thick 700mm Wide x 20m 14Sqm Armachek R Grey.

Developed for offshore and heavy industrial environments, Arma-Chek® R is a high density rubber based covering Armaflex that offers an exceptional resistance against salt water, mechanical impact and UV attack. Arma-Chek® R is fully weather proof with an exceptionally high water vapour resistance. Its non-metallic nature eliminates the risk of galvanic corrosion.

Material Flexible polymeric barrier.

Max. Surface Temperature +105˚C (if based on Class O Armaflex, NH/ Armaflex) +150˚ C (if based on HT/Armaflex)

Short Description

1mm Thick 700mm Wide x 20m 14Sqm Armachek R Grey
Substantially minimizes the risk of under insulation corrosion
Provides continuous long term thermal efficiency
No risk of galvanic corrosion Increases the life expectancy of the insulation system by up to 40%*
Reduces monitoring maintenance by up to 60%*
Easy to apply with using specialised machinery
Withstands salt water
Exceptional impact resistance
Highly resistant to UV, oil and chemicals
Non-metal cladding system - reduces health and safety risks
Complies with international standards