Armaflex Ultima Low Smoke Insulation Un-Split Tube 2m-22mm-19mm-Wall-Unslit
Insulation Material: Blue Armaprene Synthetic Rubber
Insulation Thickness: 19mm
Suitable for Pipe Size: 22mm Diameter
Length: 2 metres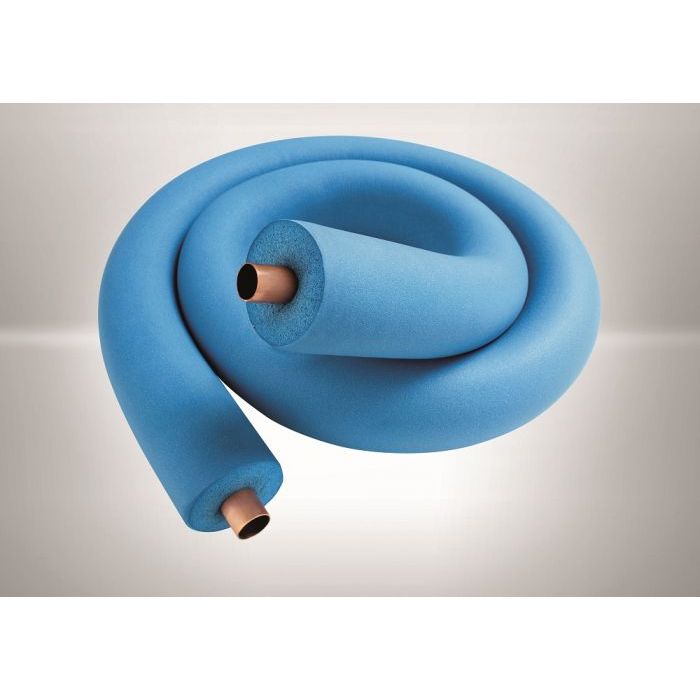 Armaflex Ultima Low Smoke Insulation Un-Split Tube From Armacell
The highest fire standard in flexible insulation, with patented Armaprene technology. Increased safety through superior fire performance and reduced smoke density. Meets the requirements for sustainable construction and green building schemes. Reduces energy losses and minimises CO₂ emissions. Excellent protection against water vapour diffusion for long-term performance. A complete system solution with Armafix Ultima pipe supports, tapes and adhesives.
With Armaflex Ultima, Armacell has set a new fire safety standard for technical insulation. Based on the patented Armaprene technology, Armaflex Ultima is the first flexible technical insulation material in the world with fire class B/BL-s1, d0.
Today Armacell is the only manufacturer of flexible technical insulation materials to publish environmental product declarations based on an independent life cycle assessment (LCA). Environmental product declarations (EPDs) provide a transparent, independent and reproducible analysis of the environmental impacts of construction products and give detailed information based on sound data and figures. As a "sustainability passport" EPDs form the basis for designing green buildings in accordance with certification schemes such as LEED, BREEAM, HQE or DGNB.
Using Armaflex Ultima on cold and HVAC installations provides installers with a flexible product combined with a good density that retains its shape whilst also being easy to cut and glue neatly with Armaflex Ultima 700 or RS850 adhesive.
More Information
Product Name
Armaflex Ultima Low Smoke Insulation Un-Split Tube 2m-22mm-19mm-Wall-Unslit
SKU
UD-19X022
mpn
UD-19X022
Description

Armaflex Ultima Low Smoke Insulation Un-Split Tube From Armacell

The highest fire standard in flexible insulation, with patented Armaprene technology. Increased safety through superior fire performance and reduced smoke density. Meets the requirements for sustainable construction and green building schemes. Reduces energy losses and minimises CO₂ emissions. Excellent protection against water vapour diffusion for long-term performance. A complete system solution with Armafix Ultima pipe supports, tapes and adhesives.

With Armaflex Ultima, Armacell has set a new fire safety standard for technical insulation. Based on the patented Armaprene technology, Armaflex Ultima is the first flexible technical insulation material in the world with fire class B/BL-s1, d0.

Today Armacell is the only manufacturer of flexible technical insulation materials to publish environmental product declarations based on an independent life cycle assessment (LCA). Environmental product declarations (EPDs) provide a transparent, independent and reproducible analysis of the environmental impacts of construction products and give detailed information based on sound data and figures. As a "sustainability passport" EPDs form the basis for designing green buildings in accordance with certification schemes such as LEED, BREEAM, HQE or DGNB.

Using Armaflex Ultima on cold and HVAC installations provides installers with a flexible product combined with a good density that retains its shape whilst also being easy to cut and glue neatly with Armaflex Ultima 700 or RS850 adhesive.

Short Description

Insulation Material: Blue Armaprene Synthetic Rubber
Insulation Thickness: 19mm
Suitable for Pipe Size: 22mm Diameter
Length: 2 metres