Plain Convoluted Eggbox Style Foam Soundproof Sheet 12 Pack
AG-Foam N Black Class O Acoustic Foam with a convoluted or profiled face (Egg Box).
18mm thick base with a 19mm rise.
Approx. 400mm x 400mm Square
Pack of 12 sheets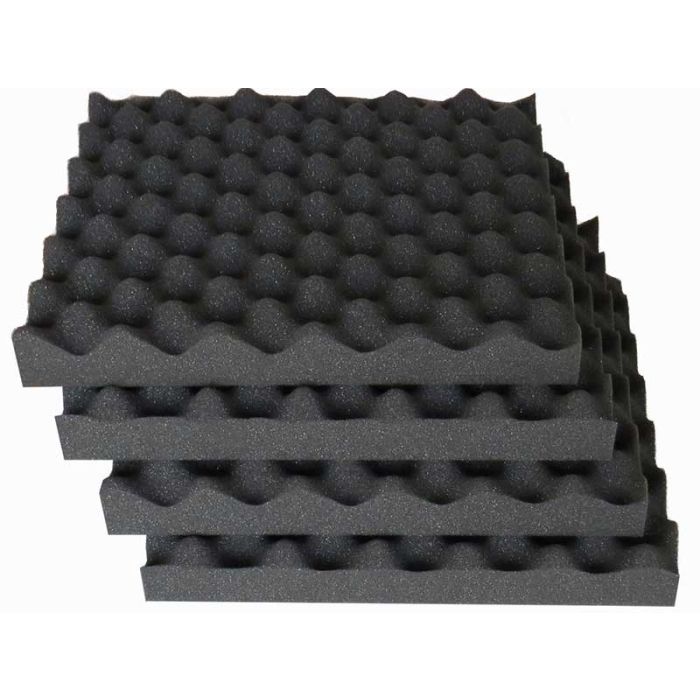 Plain Convoluted Eggbox Style Foam Soundproof Sheet 400mm x 400mm - Pack of 12
Black Class O Acoustic Foam with a convoluted or profiled face (Egg Box). Class O rated open cell acoustic foam which is extremely flexible. AG-Foam N will not melt or produce burning matter which in turn could ignite other materials in the vicinity. A high-performance sound absorber which will create a char barrier protecting the substrate from the flame.
18mm thick base with a 19mm rise. 
Fire Rating - Building Regulations 1976 Section E15: Class 0 BS476 Part 6 BS476 Part 7.
Due to its flexibility and low toxicity AG-Foam N is ideal for all forms of machinery cladding, enclosures, duct lagging, wall lining and screening.
More Information
Product Name
Plain Convoluted Eggbox Style Foam Soundproof Sheet 12 Pack
SKU
SOUNDFOAM-EGGBOX(12)
mpn
SOUNDFOAM-EGGBOX(12)
Description

Plain Convoluted Eggbox Style Foam Soundproof Sheet 400mm x 400mm - Pack of 12

Black Class O Acoustic Foam with a convoluted or profiled face (Egg Box). Class O rated open cell acoustic foam which is extremely flexible. AG-Foam N will not melt or produce burning matter which in turn could ignite other materials in the vicinity. A high-performance sound absorber which will create a char barrier protecting the substrate from the flame.

18mm thick base with a 19mm rise. 
Fire Rating - Building Regulations 1976 Section E15: Class 0 BS476 Part 6 BS476 Part 7.
Due to its flexibility and low toxicity AG-Foam N is ideal for all forms of machinery cladding, enclosures, duct lagging, wall lining and screening.

Short Description

AG-Foam N Black Class O Acoustic Foam with a convoluted or profiled face (Egg Box).
18mm thick base with a 19mm rise.
Approx. 400mm x 400mm Square
Pack of 12 sheets