Fire Rated Ceiling Air Valves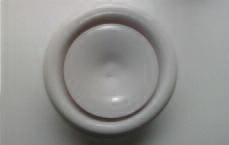 The popularity of whole house and controlled ventilation is increasing. This results in an increased number of penetrations through fire compartment walls and floors, producing open pathways for the passage of both smoke and fire.
Recessed ceiling air valves are now widely used in both domestic and commercial buildings. Ceilings must be fire protected in accordance with Approved Document B of the Building Regulations.
Ceiling air valves, if left unprotected, allow a fire to spread rapidly through a building. Once a hole is made in a ceiling for an air valve, the integrity of the construction and its ability to perform in a fire is reduced significantly. This opening must firestopped to reinstated the original fire rating of the ceiling. Our fire rated ceiling air valve performs this fire stopping function when activated by the heat of a fire.
If air valves are to be fitted to a ceiling where the downlights are fire rated, then fire rated ceiling air valves are required.
There are no products matching the selection.
This is a custom CMS block displayed if category is empty.
You can replace it with any custom content by building CMS block
with such an id - id_category_empty.